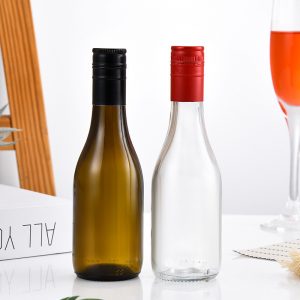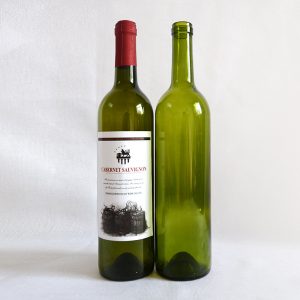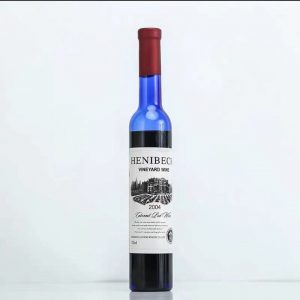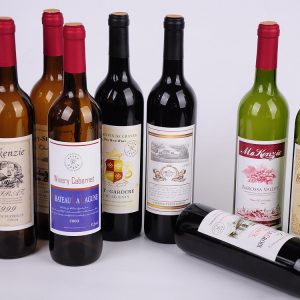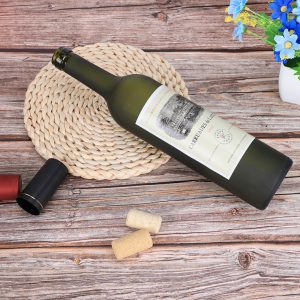 Product Description
1500ml Clear Glass Red Wine Bottle
Product details
| | |
| --- | --- |
| Product name | colored round liquor bottle glass wine bottle |
| Feature | Eco-friendly |
| Color | Dark green wine bottle Transparent |
| Capacity | 750ml wine bottle |
| Keyword: | Wine,Liquor ,Brandy,Vodka ,Whiskey Bottle |
| Logo | Acceptable Customer's Logo |
| Usage | Liquor |
Product Name

high quality 750ml round glass wine bottle wholesale

Materials

Lead-Free Glass

Color

Any color is available based on demands.

Customers' logo

Accepted

ODM&OEM

Welcome

Surface Treatment

silkscreen;hot stamping;frosted;decal;painting;electroplating;spray;label;sticker,etc.

Lid/Cap

cork;rubber;aluminum screw cap;glass stopper, etc.

MOQ

1. For ready stock,MOQ is 3,000pcs
2. For customized products, MOQ is 5000-20,000pcs

Packaging

standard carton;gift box;colorful box; white box;export pallets;special requirements on packing,etc.

Sample time

3 days if samples are in stock
3 to 15 days if samples needed to be customized
Wine bottle (liquor container)
Wine bottles are containers used to hold wine, mostly glass products.
Bottle understanding:
A wine bottle is a container used to hold wine.
Historically, wine bottles were mostly presented to the world in a simple style of "soy sauce bottle", glass material, less information, and no heavy decoration. In the earlier period, China's glass production technology was backward, and glass wine bottles were basically imported and were "imported products", so the early glass wine bottles were commonly called "foreign sticks". Even common sayings still describe a bottle of wine as a foreign stick wine.
Since the reform and opening up, wine bottles that were once dismissive have suddenly emerged and have been looked at in a different light. Wine bottles are becoming more and more colorful, and there is a prosperous scene of blooming flowers. There are glass wine bottles, plastic wine bottles, ceramic wine bottles, etc., and ceramic wine bottles are the most popular. And as a kind of cultural landscape, it has become an important part of wine culture. If in the past folk traditional wine bottles paid more attention to daily use and practicality, then modern wine bottles have added artistic, ideological and scientific features. Modern wine bottles are rich in connotation, which has gone beyond the concept of only a wine container, and has become a unique packaging artwork and a carrier of refined and popular culture.
Material evolution:
For thousands of years, the material of wine bottles has been constantly changing, mainly based on the production process and technology at that time. In ancient times, there were mainly natural containers formed in nature such as bamboo, wood, gourd, fruit shells, and animal horns; from the Neolithic Age to the Xia Dynasty, pottery was the mainstream, and a small amount of bronze and lacquer wine utensils appeared; Shang and Zhou Dynasties During the period, with the popularity of bronze ware, copper wine utensils took the leading position, and pottery retreated to the "second line"; in the Qin and Han dynasties, lacquerware was popular, and jade wine utensils appeared; from the Wei and Jin to the Tang, Song and Ming and Qing Dynasties, porcelain wine utensils remained the dominant player. Thrones, fine wines and ceramics are all "quintessences" of our country that are worthy of a book. The combination of the two adds infinite cultural heritage and profound historical feelings to wine utensils. During this period, there were also many precious wine utensils of gold, silver and jade. Since the Republic of China, my country has always played the leading role in glass wine bottles and used a large number of ceramic wine bottles (many wine bottles used Jingdezhen porcelain, Yixing purple sand and well-known kilns). Mouth-fired porcelain), and a small number of wine bottles made of aluminum, galvanized iron, plastic, stainless steel, man-made crystal, bamboo, wood, bottle gourd, and special paper. Throughout the evolution of Chinese wine-containing vessels, the order of the dominant materials is roughly: natural materials-pottery-bronze-lacquer-porcelain-glass.
glass:
The materials of wine bottles are becoming more and more diversified, including gold-plated, copper-plated, iron, tin, stainless steel, pottery, purple sand, porcelain, wood, bamboo, glass, horns, bakelite, etc. Bottles of various materials show their own characteristics and styles. Some are gorgeous and precious, some are solemn and generous, and some are light and graceful. Such as the gilded seven-layer pagoda bottle. Copper-plated Guizhou Laojiao cannon bottle. Guizhou and Guangxi make use of local specialty resources ox horn and bamboo to make various special wine bottles. The Eighteen Monsters of Yunnan, pipes and bottles sold as liquor are favored.
Common wine bottles include ceramic bottles, glass bottles, plastic bottles, etc. Among them, ceramic bottles are particularly popular.