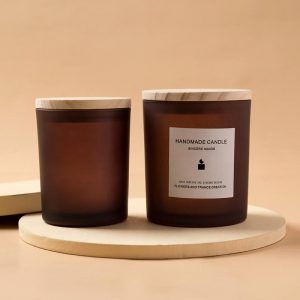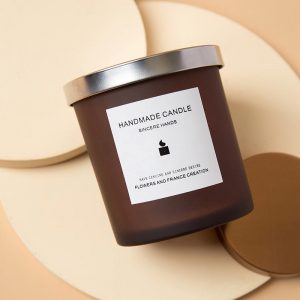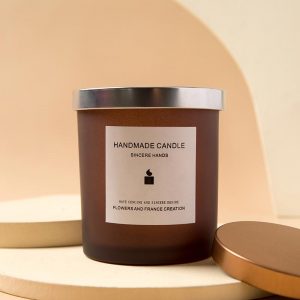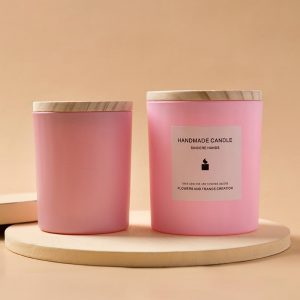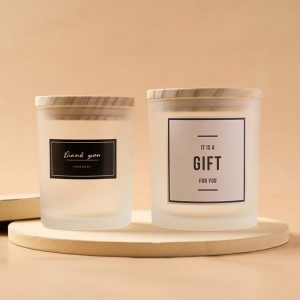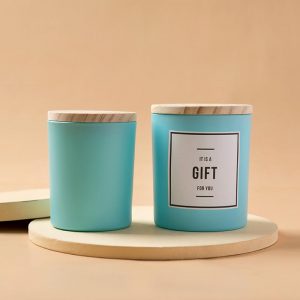 Product Description
| | |
| --- | --- |
| Produce Name |   300ml Amber Glass Candle Holder Amber Glass Candle Jars With Wooden Lids |
| Capcaity | D70mm*H80mm |
| Usage | Candle Holder |
| Material | Glass Material |
| Color | Clear / Matte / Colorful / Custmized |
| Surface Treatment | Hot Stamping,Electroplating,Silk Screen Printing,Spray Painting,Frosting,Decal,Lable and ect |
| MOQ | 10 PCS |
| Packaging | Bulk Pallet Packed or Standard safe export carton packed |
| Delivery Time | 15-20 days based on the order quantity |
| Trade Terms | FOB/CNF/CIF |
| Payment Terms | 50% deposit,balance payment before shipment |
| Sample | Free(if have stock) |
| Sample Time | 3-10 working days |
Amber glass:
Glass colored with sulfur-iron can be golden-brown-yellow-brown-red. At high temperatures, sulfur combines with the iron in the glass to form iron sulfide, and then combines with polysulfides to form thioferrite, which makes the glass brownish-red, which is often called amber.
The Chinese name is amber glass and the foreign name is Amber Glass, a first-level discipline, material science and technology, a second-level discipline, inorganic non-metallic materials. The color is golden-brown-yellow-brown-red.
In the whole reaction, at about 800%, a large amount of eutectic of Na2SO4-Na2S appeared due to the presence of carbon powder. As the temperature increases, the formation of Na2SiO3 is accelerated, and at the same time, a large amount of monomeric sulfur appears, causing the sulfur to diffuse in the glass in a colloidal state. The reaction is very violent above 100°C. Since Na2SO4 and Na2S form a relatively stable solid solution, this ensures the presence of sulfur in the glass. At this time, under the action of carbon, it reacts with iron ions in the glass to form FeS, and then reacts with FeO and Na2O (or K2O) in the glass to form thioferrite (ferrous polysulfide) as the temperature rises, making the glass appear Amber (brown-red).
FeS+Na2S=Na2FeS2 (ferrous polysulfide color base)
(Gray brown) (yellow red) (brown red)
The degree of color tone determines the number and proportion of iron sulfide (FeS) and polysulfide (Na2Sn or K2Sn) compounded into thioferrite (Na2FeS2 or K2FeS2) in the glass. The larger the ionic radius of alkali metals (the ionic radius of K is larger than that of Na), the easier it is to form polysulfides with multiple sulfur atoms. Therefore, ferrous sulfide + potassium (K) in the basic glass, under the same conditions, the generated potassium thioferrite has a better hue than the generated sodium thioferrite (Na); and after potassium (K) ions are introduced , The gloss of glass is better than that of glass with sodium (Na) ions introduced.
Preparation:
Raw material preparation
Weigh out quartz sand, aluminum hydroxide, calcite, dolomite, soda ash, potassium carbonate, barium sulfate, iron oxide and sulfur oxide according to the weight of the raw materials, and mix them evenly;
High temperature melting
Melting at a high temperature in an oxidizing atmosphere at a melting temperature of 1450-1500°C, and adding carbon powder 1-3;
Forming processing
As the temperature of the molten liquid decreases to 1000-1200°C, the viscosity increases, and then the molding process is carried out;
annealing
Control the annealing temperature and atmosphere, the softening temperature is 744℃, and the annealing temperature is 568℃.