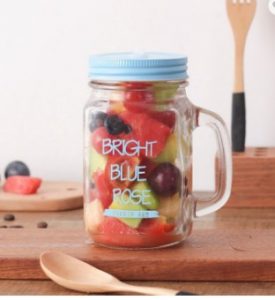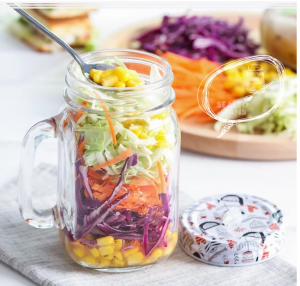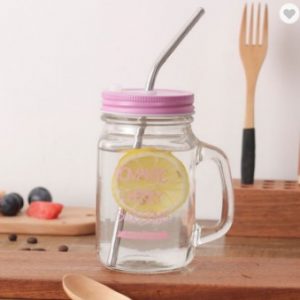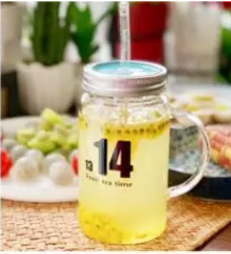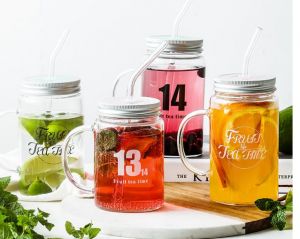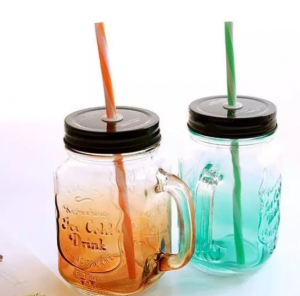 Product name

Custom Wide Mouth Colorful Empty Food Glass Mason Jar with Handle Straw

Payment

T/T, D/A,D/P,L/C, Western Union MoneyGram and Papal

Material

Pure eco-friendly glass body

Packaging

Bulk pallet packed or standard safe export carton packed

Delivery Time

(1) In stock : within 7 days after receiving payment.
(2) Out of stock : 25 ~ 35 days after receiving payment.

MOQ

(1)500 pcs when have stock
(2) 20,000 -50000pcs when need mass production or open new mould

Port

Shanghai, Qingdao or Lianyungang

Surface Treatment

Frosted, baked flowers, silk screen, bronzing, color spray, etc

Technical Parameters

1 .Anti-thermal shock degree:>=41 degrees
2 .Internal-stress(Grade):<=Grade 4
3 .Thermal Tolerance:120 degrees
4 .Anti shock:>=0.7
5. Pathogenic Bacterium:Negative
6. Thermal Tolerance:120 degrees
What is the Mason Cup?
The Mason Cup, also known as the Mason Bottle, is a sealed container that can be used to store food. Due to its fresh appearance, rich size and strong plasticity, it has also derived many new uses.
The Mason bottle is separated from the bottle and the lid. The lid has one-piece, two-piece, perforated, and even a piggy bank lid. The secret to make it sealed is the two-piece lid. Put the glass bottle in hot water to keep it at a certain temperature. Put the finished hot jam into the bottle, then close the lid and put it back in hot water to heat it, and finally put it at room temperature. cool down.
Origin of invention:
The Mason bottle was invented by John L in 1858. The original intention of inventing this jar was to prolong the life of food, just like the way food is preserved at home with pickled vegetables and sauces. If these preserved foods are to be preserved for a long time, they need containers with excellent airtightness, so The Mason bottle was invented.
The mason bottle has many new uses due to its fresh appearance, rich size and strong plasticity. It can be used for pickling pickles, making coffee cups, serving salads to work, making unique layered brownies, and even Make light bulbs, vases, potted plants, and bathroom storage kits.
The Mason Cup is a glass jar with a lid that originated in the United States. The juice, jelly, and milkshake filled in the Mason Cup are popular all over the world due to their health and deliciousness, variety of shapes, and full of artistic style. The Mason Cup was born in the 1850s. It was invented by John Landis Mason, a blacksmith from Philadelphia, USA, and registered a patent in 1858.
The Mason Cup is made of a thick glass jar. It is the first to have a threaded bottle mouth. The special lid is composed of a metal sheet and a threaded ring. The troublesome method of wax preservation, of course, the transparent glass also helped people to clearly see the changes in the jar in time, which solved the thorny fruit storage problem in many families at that time.
Product Usage:
The Mason Cup has never withdrawn from the stage of history. This old antique can always find its own value in different places. Nowadays, using it to make home-made pickles and fruits is still the basic skill of foreign housewives in the kitchen, and they are indispensable for storing ingredients at home.
It has become a fashionable thing for white-collar workers in the city. It is used as a container for daily salad lunches, and the food level can be clearly seen. There are also various canned salad recipes circulating on social networks. It is beautiful and beautiful. Easy to do. Out of the kitchen, the Mason cup has become the default best flower device. Foreigners use it to grow flowers and plants, which seems to be innocent, and even a special flower arrangement category has been developed.
And the popular industrial-style interior design does not forget to decorate with Mason cups, which are used as lampshades on table lamps and chandeliers. Of course, the scene with the most scenes is the bar counters of various bars. It is suitable to use Mason cups to hold drinks. Various cocktails, iced teas, juices, and many manufacturers also specially make Mason cups for holding drinks. .
Our factory: