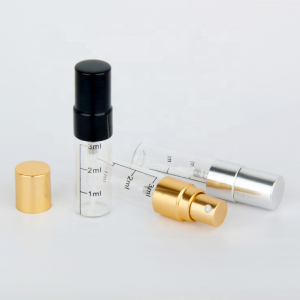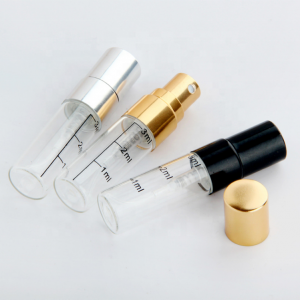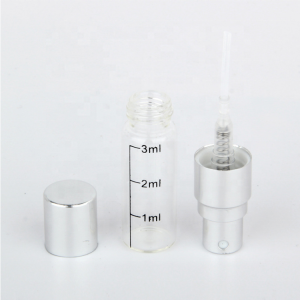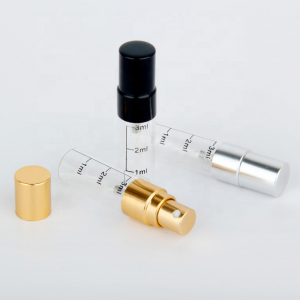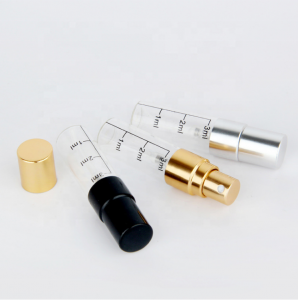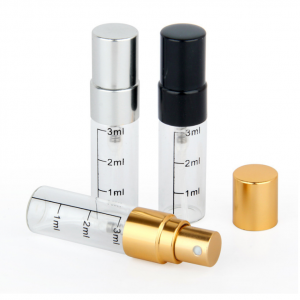 Volume
:
F
rom 5ml stocks available, other volume is also available.
| | |
| --- | --- |
| | Clear Glass Vial With Sprayer |
| | 1ml, 2ml, 3ml and 5ml etc |
| | Clear |
| | 5000pcs |
| | Available |
| | Available |
| | Glass |
| | silk screen, hot stamping etc |
Advantages of glass bottles:
There are many varieties of glass and a wide range of uses. In addition to the commonly used quartz glass and tempered glass, there are also various types of optical glass, color-changing glass, laminated glass and so on. As there are many types of glass, it is even more important to choose the right type. In order to find suitable glass products, we need to have an understanding of all kinds of glass, and be familiar with the advantages and disadvantages of glass bottles and production methods.
Glass bottles are the main packaging containers in the food, medicine, and chemical industries. They have good chemical stability; easy to seal, good airtightness, and transparency, and the contents of the contents can be observed from the outside; good storage performance; smooth surface, easy to disinfect and sterilize; beautiful appearance, colorful decoration; certain machinery Strength, can withstand the pressure in the bottle and external force during transportation; the advantages of wide distribution of raw materials and low price. Its disadvantages are high quality (large ratio of mass to capacity), high brittleness, and fragility. However, these shortcomings have been significantly improved by adopting the new technology of thin-wall, light-weight and physical and chemical tempering. Therefore, the output of glass bottles can increase year by year under the fierce competition with plastics, iron cans, and iron cans.
In the past ten years, the practice of this technology transformation on glass melting furnaces in various countries around the world has shown that the oxy-fuel combustion technology has significant advantages such as low investment, low energy consumption, and low pollutant emissions. In the United States and Europe, lightweight bottles and cans have become the main products of glass bottles and cans. Small-mouth pressure blow technology (NNPB) and spraying technology on the hot and cold ends of bottles and cans are all advanced technologies for lightweight production. The German company has been able to produce a 1-liter concentrated juice bottle weighing only 295 grams. The surface of the glass bottle is coated with agricultural production system resin, which can increase the pressure strength of the bottle by 20%. In modern factories, producing glass bottles is not easy, and there are many scientific problems that need to be solved. In our daily lives, glass bottles can be seen everywhere. Whether it is beverages, medicines, cosmetics, etc., glass bottles are their good partners. These glass bottles have always been regarded as good packaging materials because of their transparent beauty, good chemical stability, purity of the content, high temperature heating, and old bottles that can be recycled and renewed.